Monday – Friday Mornings
9:00-12:00
Reading/Writing Bootcamp
Englist classes take place in an immersive English educational environment. During Reading/Writing Boot Camp, students engage in guided reading with Englist teachers, with a new novel chosen each session. Through further class discussions and writing exercises, students are encouraged to think critically to gain a deeper understanding of the text.
What is guided reading and sentence building?
There are two main areas of focus at the elementary level — guided reading and sentence building.
Guided reading is done as a group where students practice reading silently, out loud, and by listening to the teacher. As a class, they analyze texts to develop and enhance comprehension and vocabulary.
Sentence building is taught through grammar instruction and writing practice. Students are asked to employ grammar skills organically through their writing, and by rewriting sentences with errors, students are able to target mistakes and problems unique to their writing experience.
Session 1 (1 week):
July 10-14
The Chocolate Touch
John Midas is delighted when, through a magical gift, everything his lips touch turns into chocolate. The story is patterned after the myth of King Midas, whose magic turned everything he touched into gold.
Session 2 (2 weeks):
July 17-28
The 13-Storey Treehouse
The story follows Andy and Terry, who are living in a 13-storey treehouse, struggling to finish their book on time among many distractions and their friend Jill, who lives in a house full of animals and often visits them.
Session 3 (2 weeks):
July 31 – August 11
Alvin Ho
Alvin, an Asian American second grader, is afraid of everything—elevators, tunnels, girls, and, most of all, school. He's so afraid of school that, while he' s there, he never, ever, says a word.
Session 4 (2 weeks):
August 14-25
The Last Kids on Earth
This book is about a boy and his friends surviving a monster-zombie apocalypse. The main character is thirteen year old, Jack Sullivan, who is the hero of the story. Then there is Quint Baker, the hero's best friend, and June Del Toro, the hero's love interest. The villain is Dirk Savage: the bully.
Session 1 (1 week):
July 10-14
Planet Omar: Accidental Trouble Magnet
This story follows the everyday adventures of Omar. He tries to stay out of trouble, but sometimes it just finds him! After his parents move house, Omar starts at a new school and has to deal with making new friends, a school bully and a disastrous trip to the Science Museum.
Session 2 (2 weeks):
July 17-28
The Smartest Kid in the Universe
Jake is your typical video-game-playing middle school slacker until he accidentally eats a jar of jelly beans … at least he thinks they're jelly beans, but in reality they're ingestible knowledge pills.
Session 3 (2 weeks):
July 31 – August 11
Billionaire Boy
The story follows Joe Spud, who is the richest boy in the country and has everything he could ever want, but wishes to have a friend and eventually learns a lesson on being a normal boy. 
Session 4 (2 weeks):
August 14-25
The Wild Robot
It's the story of a robot named Roz and her struggle to survive on a remote, wild island. As it turns out, Roz doesn't just survive, she adapts, and learns to communicate with the wildlife, and then she develops animal friends and even a family. Roz makes the island her home.
Monday – Friday Afternoons
13:00-16:00
Summer Explorers
Students engage in topics based on different themes every session, from inventions, to film, to food around the world. Classes are conducted all in English, and teachers encourage students to practice their English comprehension skills through critical thinking, group discussion, and a series of fun activities.
Session 1
July 10 – July 14
(1 week)
July 10 – 14
Inventions & Tech
Curious students will love this session as they will learn about past inventions and the technology that has shaped the world. They'll even get an opportunity to think about the things that they would like to invent themselves!
Session 2
July 17 – July 28
(2 weeks)
July 17 – 21
Foods Around the World
What better way to understand another culture than with your stomach? Students are encouraged to try different cuisines from around the world and learn about other customs and traditions in the process.
July 24 – 28
Graphic Novels & Comics
Love graphic novels such as Dog Man and Cat Kid? Do you want to learn more about this genre of books and even how to make your own? Well this class is perfect for you! Students will explore several different styles of graphic novels and comics, why they're popular, and how to create one for yourself!
Session 3 
July 31 – August 11
(2 weeks)
July 31 – August 4
Classic Games
This session is perfect for the student with a competitive streak. In this session, teachers will introduce students to some classic Western board games. Students will get to play against the teacher as well as each other!
August 7 – 11
Superheroes & Villains
Join us as we learn about our favorite superheroes and the villains they fight against each other to save the world. You'll learn about their histories, incredible powers, and why they were created. Students will also get the opportunity to create their very own superheros!
Session 4 
August 14 – August 25
(2 weeks)
August 14 – 18
Myths & Legends
Mythology is always a hit with students. It's probably because myths are full of brave heroes, scary monsters, and lots of magic. Join this class as we travel around the world, seeking out the most incredible myths and legends that we can find. You won't want to miss this!
Budding movie directors will get the most enjoyment out of this session, as not only will students get to watch movies, teachers will guide them through discussion and analysis of each film's plot, development, and characters. 
Our classes are all-English, all the time.
Native English-speaking teachers
Our classes are all immersive English-learning environments because our teachers are native English speakers. This allows students to improve their language skills more fluidly and colloquially.
Small class sizes
Through group discourse and interaction with their classmates, students are encouraged to speak up and voice their thoughts and opinions. This cultivates their logical thinking and social skills.
Fostering critical thinking skills
Students are encouraged to express their ideas through question-and-answer sessions and think critically about their arguments. This helps them become independent thinkers and prepares students for more advanced levels of writing.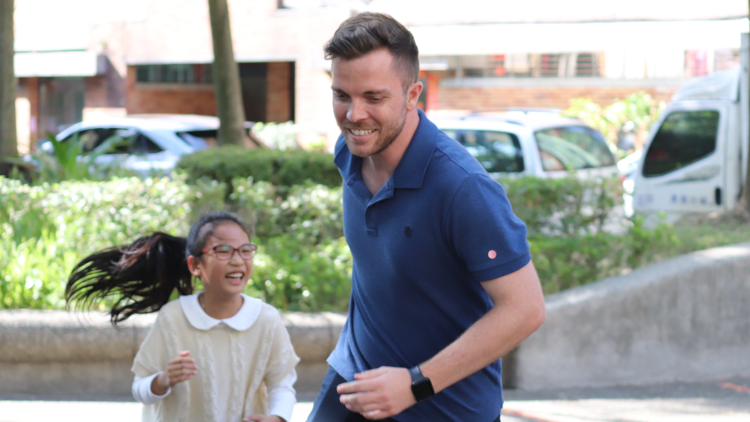 Englist teachers all speak English at a native level and possess a wealth of education experience. Through all-English instruction, our classes help beginner learners develop strong pronunciation, listening, and speaking skills. By organically building a wider range of vocabulary through daily conversation with teachers, students also develop solid foundations for more advanced English learning and communication.
Intermediate learners further improve their English abilities by learning from material that covers different subject matters, which then serve as topics of class discussion and writing assignments.
推薦Englist ,老師非常用心,若孩子作業遲交,老師會請家長和學生來學校面談,擬定改善計劃,每學期也會和家長面對面討論孩子學習狀況,可以感受到他們用心經營,對學生的責任感超越坊間一般英文補習班。
課程採小班制能針對學生的強弱項,給予合理分配個別課題所花的時間,例如閱讀能力、寫作能力、口說能力等,在外師面前可自在地發問,並表達自己的看法,學生的自信心逐漸提升;教務人員服務親切,樂於即時協助親師溝通,讓家長放心的學習環境唷!
真的好專業的課程,老師們對每個孩子的程度,上課吸收度和對孩子的展望,都很確實的掌握,最棒的是會一直鼓勵孩子們閱讀
大女兒 Ashley 在Englist 接受英文寫作及演說訓練,獲益良多。我願意向大家推薦 Englist!
在Englist上課時全程由外籍教師以英語授課,鍛鍊孩子的聽說讀寫能力,讓孩子全時間的沉浸在正規英語使用法的氛圍裡,平時養成固定閱讀英文書籍的習慣,這樣的方式,讓英語學習不在是只重視於字彙與文法上的知識傳授,而是真正有效率的讓學生親近英語,讓英文不只是學科,而是學習知識的工具,並了解語言溝通的重要性。
感受到孩子在Englist上課後的成長,寫作部分能很快建立起結構,老師很認真且了解每個孩子的狀況
Adam是個專業認真的老師,能指出孩子需要進步的地方,作業也仔細批改,是個加強英文寫作的好教室.
老師很棒!和西方小朋友學英文的方法一致,孩子獲益良多
孩子在這上課,進步很多,現在寫報告速度都超快的
教學分針適用閱讀來帶動寫作與思考,小孩喜歡這裡的老師。
※Fees for materials, activities, meals, and transportation calculated separately※

Bring a buddy:
Get up to 25% off if you sign up with siblings or friends!
(same-session sign-ups only)
Sign up for more:
The more sessions you sign up for, the bigger your discount!
Stay with us ALL summer:
Sign up for all 4 sessions
for a special discount!
Feel free to reach out to us through the channels below, or simply fill out this form and a representative will be in touch.
Taipei City, Da'an District, Anhe Road, Section 1, No. 137, 4th Floor