2023 Elementary Winter Programs
All-English classes | Taipei Da'an District
We aim to inspire young minds and instill in them an enjoyment and passion for learning. The materials we use in class are on par with textbooks used at schools in the United States. Enroll now to help your child improve their English reading, writing, and critical thinking abilities this winter.
Our classes are all-English, all the time.
Native English-speaking teachers
Our classes are all immersive English-learning environments because our teachers are native English speakers. This allows students to improve their language skills more fluidly and colloquially.
Small class sizes
Through group discourse and interaction with their classmates, students are encouraged to speak up and voice their thoughts and opinions. This cultivates their logical thinking and social skills.
Fostering critical thinking skills
Students are encouraged to express their ideas through question-and-answer sessions and think critically about their arguments. This helps them become independent thinkers and prepares students for more advanced levels of writing.
What is guided reading and sentence building?
There are two main areas of focus at the elementary level — guided reading and sentence building. 
Guided reading is done as a group where students practice reading silently, out loud, and by listening to the teacher. As a class, they analyze texts to develop and enhance comprehension and vocabulary.
Sentence building is taught through grammar instruction and writing practice. Students are asked to employ grammar skills organically through their writing, and by rewriting sentences with errors, students are able to target mistakes and problems unique to their writing experience.
Mornings: Reading/Writing Boot Camp
Jan. 30 ~ Feb. 3 | 9:00 – 12:00
Feb. 6 ~ Feb. 10 | 9:00 – 12:00
Enrollment limited to weekly sign-ups only!
Suitable for students who are at an American school English proficiency level between Grades 1-6
*If you're unsure of your child's English proficiency level, feel free to schedule an assessment with us
Englist classes take place in an immersive English educational environment. During Reading/Writing Boot Camp, students engage in guided reading of short stories with Englist teachers. Through further class discussions and writing exercises, students are encouraged to think critically to gain a deeper understanding of the text.
Week 1: The Final Frontier
Jan. 30 ~ Feb. 3
Afternoons 13:00 – 16:00
Enrollment limited to weekly sign-ups only!
Students engage in different topics about outer space every day of the week. Then, the entire class will participate in a field trip to the Taipei Astronomical Museum to immerse themselves in the wonders of outer space!
Week 2: Explore Taipei
Feb. 6 ~ Feb. 10
Afternoons 13:00 – 16:00
Enrollment limited to weekly sign-ups only!
One of Englist's most popular programs is back! Students are responsible for keeping a travel journal as they participate in field trips to interesting and fun locations around Taipei. This winter, students will visit sites including the Taiwan Insect Museum, the National Taiwan Science Education Center, and the Taipei Children's Amusement Park!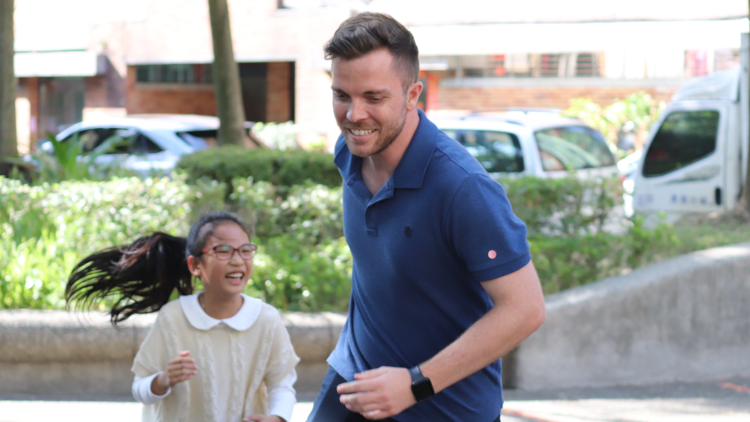 Englist teachers all speak English at a native level and possess a wealth of education experience. Through all-English instruction, our classes help beginner learners develop strong pronunciation, listening, and speaking skills. By organically building a wider range of vocabulary through daily conversation with teachers, students also develop solid foundations for more advanced English learning and communication.
Intermediate learners further improve their English abilities by learning from material that covers different subject matters, which then serve as topics of class discussion and writing assignments.
非台灣傳統美語補習班,擺脫背單字、被文法的學習方式,用學母語的方式將學習語文所需要的能力融入課程中。孩子很喜歡,有挑戰也有樂趣。
老師親切有耐心,專業度更是不用說! 對於孩子的情形都會即時反映給家長👍
非常有系統的帶領孩子分析文本,閱讀文章~😃用母語式方式自然學習英文並且學習有脈絡的組織想法寫出文章,很感謝Teacher Andrew 的耐心教導!😃🙏
mengchun chang
2022-07-30
我這邊以家長的角度來分享。 我的孩子中年級,我想替他尋找好的英文奠基課程,也希望在學校附近、交通方便的教學環境,當初在比較過後,選擇ENGLIST,這一年下來,衷心認為ENGLIST是很棒的選擇! 語言的學習需要input和output,這裡是透過閱讀、還有一起討論教材,來練習寫作,課程會討論小說和與美國同步的小學教材,是很扎實的語言學習! 老師很重視親師溝通,每週會更新學習進度,也會簡述小孩的課堂學習狀況,我覺得ENGLIST很棒!
My girls have been studying here for several years. They have built solid foundation in English writing, which help them in all subjects in school. I would strongly recommend this place for whoever want to perfect their writing skill!
Best place for learning English. Classes are very helpful and beneficial for students. Throughout the years of learning at Englist my writing skills have improved a lot and my grades have gotten better. The environment is suitable for learning and the teachers give genuine and useful advice.
I have been in this program for a few years now and my writing and over all communicating skills have improved a lot. The teaching technique here is one of the most effective ways to learn and use writing.
The learning environment is great, the teachers are hardworking, and the classes truly benefit the students. It can be a tough class at times, but the results can be clearly seen. Both the English writing ability and overall critical thinking and learning ability of the student will very obviously improve.
The Englist program has really improved my critical thinking skills. The classes are interesting and people should definitely go! Your money will not be wasted, for sure.
Englist is a great place to learn. The teachers are supportive and even gives us advice for things like college apps. My writing skill has increased by leaps and bounds since i joined Englist.
Feel free to reach out to us through the channels below, or simply fill out this form and a representative will be in touch.
Fuxing South Road, Section 2, No. 268, 2F-3