Fundamentals
Elementary Level
Elementary-aged children already have a natural curiosity for the world around them. Through enriching reading material we aim to inspire these young minds and instill in them an enjoyment and passion for learning.
Our classes are all-English, all the time.
Native English-speaking teachers
Our classes are all immersive English-learning environments because our teachers are native English speakers. This allows students to improve their language skills more fluidly and colloquially.
Small class sizes
Through group discourse and interaction with their classmates, students are encouraged to speak up and voice their thoughts and opinions. This cultivates their logical thinking and social skills.
Fostering critical thinking skills
Students are encouraged to express their ideas through question-and-answer sessions and think critically about their arguments. This helps them become independent thinkers and prepares students for more advanced levels of writing.
What is guided reading and sentence building?
There are two main areas of focus at the elementary level — guided reading and sentence building. 
Guided reading is done as a group where students practice reading silently, out loud, and by listening to the teacher. As a class, they analyze texts to develop and enhance comprehension and vocabulary.
Sentence building is taught through grammar instruction and writing practice. Students are asked to employ grammar skills organically through their writing, and by rewriting sentences with errors, students are able to target mistakes and problems unique to their writing experience.
Class Materials and Workbooks
HMH Into Reading Series
This popular series of reading-based textbooks introduces stories built around of varying themes and topics, followed by an analysis of each article. This helps guide students in understanding the text on a deeper level. This series is well-known for helping cultivate students' English reading comprehension skills.
Spectrum Writing
Spectrum Writing workbooks clearly guide students in how to write for various styles of text, whether it is narrative, expository, or if they're simply stating an opinion. This helps students develop the skills they need to be prepared for higher level academic writing later on.
Specially Chosen Literature and Novels
We customize our program according to the English level of the students enrolled in each particular class. Different novels and pieces of literature are chosen each semester. Through the analysis of this reading material, students improve their critical thinking skills and strengthen their understanding of the English vernacular.
Fundamentals 1
Students will develop the ability to converse comfortably with some mistakes, write basic sentences, read storybooks independently, read novels with class, developing grammar skills.
Fundamentals 2
Students will learn to converse comfortably with proficiency, begin writing basic paragraphs and series of sentences, read children's novels independently, strong command of basic grammar functionality
Fundamentals 3
Students will be comfortable using proficient English in a range of situations, ability to construct a paragraph and foundations for essay writing, can read young adult fiction independently, strong command of grammar and mechanics
All new students who are interested in enrolling at Englist must complete a reading and writing assessment for our academic administrators to determine their most appropriate course level.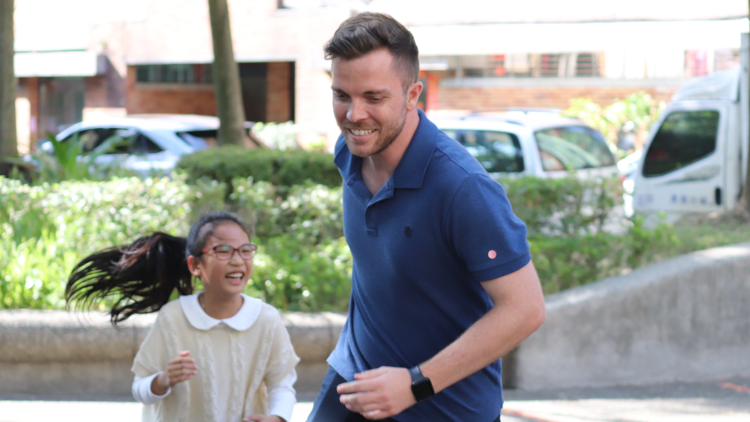 Englist teachers all speak English at a native level and possess a wealth of education experience. Through all-English instruction, our classes help beginner learners develop strong pronunciation, listening, and speaking skills. By organically building a wider range of vocabulary through daily conversation with teachers, students also develop solid foundations for more advanced English learning and communication.
Intermediate learners further improve their English abilities by learning from material that covers different subject matters, which then serve as topics of class discussion and writing assignments.
mengchun chang
2022-07-30
我這邊以家長的角度來分享。 我的孩子中年級,我想替他尋找好的英文奠基課程,也希望在學校附近、交通方便的教學環境,當初在比較過後,選擇ENGLIST,這一年下來,衷心認為ENGLIST是很棒的選擇! 語言的學習需要input和output,這裡是透過閱讀、還有一起討論教材,來練習寫作,課程會討論小說和與美國同步的小學教材,是很扎實的語言學習! 老師很重視親師溝通,每週會更新學習進度,也會簡述小孩的課堂學習狀況,我覺得ENGLIST很棒!
My girls have been studying here for several years. They have built solid foundation in English writing, which help them in all subjects in school. I would strongly recommend this place for whoever want to perfect their writing skill!
Best place for learning English. Classes are very helpful and beneficial for students. Throughout the years of learning at Englist my writing skills have improved a lot and my grades have gotten better. The environment is suitable for learning and the teachers give genuine and useful advice.
I have been in this program for a few years now and my writing and over all communicating skills have improved a lot. The teaching technique here is one of the most effective ways to learn and use writing.
I joined Englist in September 2018, and it is my pleasure to work with the teachers here. It is a conducive environment for students to strengthen their English critical thinking and communication skills through intensive writing training. I enjoy my time at Englist very much, and I hope more students come and join this writing community.
The learning environment is great, the teachers are hardworking, and the classes truly benefit the students. It can be a tough class at times, but the results can be clearly seen. Both the English writing ability and overall critical thinking and learning ability of the student will very obviously improve.
The Englist program has really improved my critical thinking skills. The classes are interesting and people should definitely go! Your money will not be wasted, for sure.
Englist is a great place to learn. The teachers are supportive and even gives us advice for things like college apps. My writing skill has increased by leaps and bounds since i joined Englist.
閱讀是所有學習的基石~ 在Englist可以很深刻感受得到這樣的信念,對於這樣的教育理念我十分的認同,因為這是在我兩個孩子身上看見的,想要建立良好的寫作技巧沒有捷徑,但是有方法。Englist的培訓有一套嚴謹的計劃,能很扎實的建立孩子寫作技巧與觀念。我的孩子更透過由Englist組織經營、學生撰寫的英文評論刊物「Taipei Teen Tribune」,發展出對寫作的熱誠並且大大提升寫作素質與眼界,讓喜愛寫作的孩子有一個公開發表的平台。Englist團隊在教育上的用心讓我欽佩又放心。 Thank you ENGLIST~
孩子在Englist上了一年覺得進步非常多, Tr. Andrew 除了會教閱讀寫作, 時事, 孩子生活或學校上的事情也都會跟老師分享, 每週孩子很期待去上課⋯ 我們很放心把孩子交給Englist.
Feel free to reach out to us through the channels below, or simply fill out this form and a representative will be in touch.
Fuxing South Road, Section 2, No. 268, 2F-3